The Advertising
This year's summer social has been rescheduled for Thursday, August 6, at the barn in Walnut Park (since the originally scheduled event was suspended due to Mission 98-07). As before, this event will feature CMRU's first ever campstove cookoff as well as a sampler of members' favorite mountain cuisine.
For the cookoff, participants need to bring their stove, assembled or disassembled as it would be carried in a pack. The competition will include assembly time, warm-up, and time to boil a calibrated volume of water. "Standardized" containers will be provided for the competition. The sample of members' favorite mountain cuisine can either be prepared ahead of time or prepared on site. Bring your own table service and favorite beverage -- mountain or otherwise.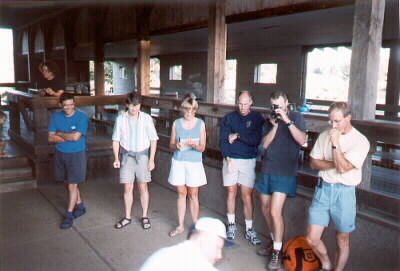 Faron (in background), Scott, Jon, Mardi, Lindsay, Jeff and Don watch as Matt tries to coach his stove. Mardi was the timer, keeping people on task.
The Event
The evening air was filled with the sound of spitting and hissing as 7 stoves raced to turn hydrocarbons into hot water. We had a good representation of stoves with a few notable execeptions. The stoves weighed in and then went to the staging area where we got to see how fast they could go from as-packed to being ready to light. From there contestants were at the ready, lighter in one hand, the standardized 5 lb coffee can filled with 1 L of water in the other.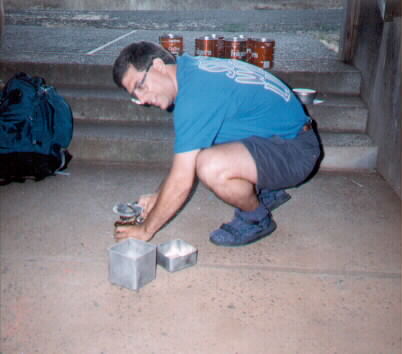 Scott pumps up his stove to prepare for the lighting.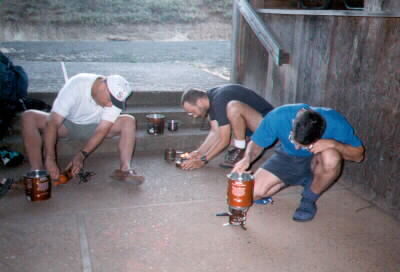 Jeff and Matt work on getting their stoves lit as Scott places his calibrated can of water on the stove.
At the appointed time there was a synchopated flicking of the Bics followed by the hisses, snaps, and sputters of stoves coming to life. The butane stoves had their usual unceremonious awakening coming on to full flame in less time than it took to get the pot into place. Then there were the assortment of liquid gas stoves. In the excitement of the contest one or two pilots got on the gas a bit too early and we had a fine demonstration of the true value of a liquid gas stove: the ability to also function as a light source and helicopter signaling device. Once warmed up there was the comforting growl of full flame which got to quite the roar with four of them going at once.
Then there was the lone solid fuel stove: the wood burning, smoke billowing, you could always pour some gasoline on it to get it lit, "Hey, you can't just go pick up some charcoal now and keep the 9 sec start-up time you no good dirty cheat", it's even got an electric motor, I almost brought mine along too, Zip Stove. This little beauty puts out but may not be legal where camp fires are prohibited. A lovely '00 was also on hand showing that if you really want to get someone's attention you need to burn kerosene, as were several Trangia-type alcohol variants. They did not participate in the time trails, however. By the way, we did have two fire extinquishers on hand.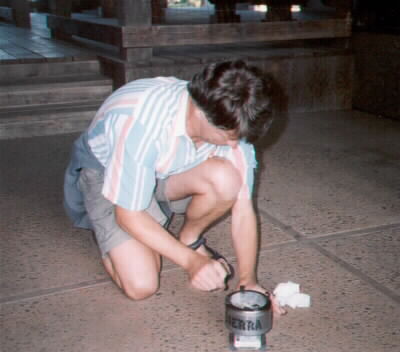 Scavenging for fodder, Jon coaxes his Zip stove to life.
So below are the times for setup and light-to-rolling boal of the stoves. We managed to weigh them prior to the time trial but forgot to do the after measurements, being somewhat distracted by a ten pound metal box of some yellow egg stuff with little smoked sausages.