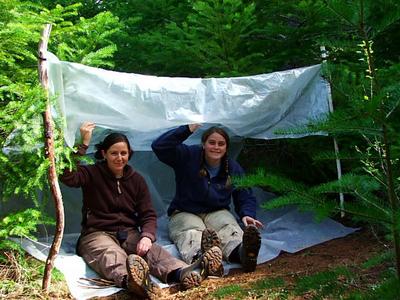 Desiree and Kate enjoying Kate's shelter
for the overnight test to complete their Search and Rescue Certification, April 2005
Kate was a cheerful person who loved the outdoors. She was a graduate student at OSU in Microbiology having completed her undergraduate studies also at OSU. Although she grew up in Hillsboro, her family moved to the Washington, D.C. area as Kate entered high school; but Kate chose to return to Oregon for college. Much to the chagrin of her U of O alumni parents, she chose Oregon State.

In January 2005, Kate and her close friend and climbing partner, Desiree, came to a Unit meeting. They both completed Benton County's SAR Certification course and made application to join CMRU. They had just finished the interview process for membership in June.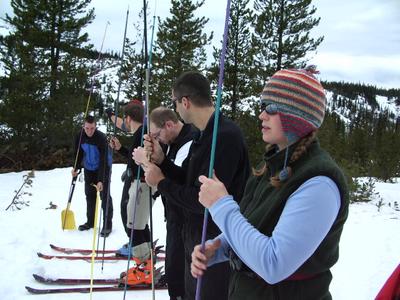 Kate learning about avalanche probe lines, January 2005
While descending from a successful summit of Three-Fingered Jack and departing about 100m below The Crawl (after the "technical" part of the climb), Kate lost her footing on scree covered ground and tumbled about 700 feet down the west side of the mountain sustaining fatal injuries. A moment of inattention turned a happy outing into a tragedy and changed the lives of all who knew her.

We'll miss your happy face and big smile. It's a 5.10 mantle into Heaven, and we know you made it, Kate.